Jay Womack, Wilson, Louisiana
March 21, 2010
Hey Marty, I have posted a video of my ultimate 10-200 in action on youtube showing the awesome performance of this 4 cylinder stock 180HP biplane design.

Keep up the good work!

Take care

Jay Womack
The Full-Scale Plane
October 20, 2010
Here's some cool pics a friend took of me in my biplane at my dad's 80th birthday bash last weekend.
It was a good time with great weather and everyone had a great time.
Take care
This will contain the album(s)
A small RC kit
44% RC Scale Model -- David Clarke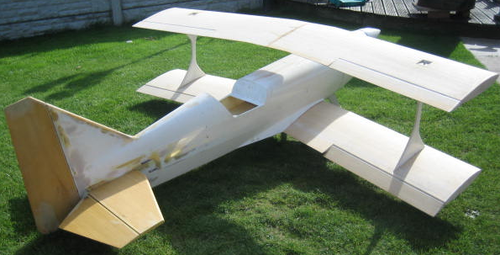 May 4, 2008
Hi, Marty!
I'll send a note to Gary.
I'm still enjoying the hell out of my Ultimate.
What a great performing airplane, especially with today's fuel prices--I'm glad its a 4 cyl!
Keep up the good work on the site.

Jay
---
October 4, 2005
Hi Marty,
I'm Jay Womack in Wilson, Louisiana.
I built my ultimate 10-200 from plans and flew it for the first time in 1992. After 13 years, I'm still not tired of flying it.
The specs are 180 HP Lycoming, fixed pitch wood performance propeller, 4 into 1 exhaust. ellison throttle body. With this combo I get economy plus low maintenance with the performance of a biplane that will do 5 vertical rolls. Most people think I run more horsepower when they see it fly. I've attached some images if you would like to post them on your website.
I feel the plane is an excellent design.
My color scheme was copied by Cox Hobbies--I thought that was pretty cool! You're right--the Ultimate is the most popular RC biplane ever! Too bad more full scale ones aren't out there!
If you have any questions, email me at any time.
---
Return to index.
---