There was a heat wave in Iowa when I arrived. One city got up to 95 degrees. My left arm was badly sunburned from leaving it hanging out the window.
Lee is very happy that I got here a day early. He's got all kinds of projects he wants help with. I may be driving his little Bobcat tomorrow. I've read the manual cover to cover. I thought it was very interesting that a pinhole leak in the hydraulic system could inject oil under a person's skin. The manual suggests that it is best to test for leaks using paper, wood, or someone else's finger. If I have any suspicions about hydraulic leaks, I will just shut the machine down and wait for an authorized tester to find the problem.
Wanda, Lee, and Amanda have all gone to work today, so I've had the morning to myself to get caught up on this diary. I expect that things will get busy shortly. Regina will finish work around noon and Lee will try to come over to show me what he wants done--if the ground is dry enough. The sun is shining now, but it rained all last night.
+ + + + + + + + + +
After a quiet morning all alone in the house, I spent most of the afternoon in a tiny front-end loader, hauling dirt for the garden and for the pole barn. It's my first time driving a machine like this. I've done some tractor driving. This is far easier. The controls are simple. The engine takes care of all of the transmission decisions. All I had to do was point it where I wanted it to go and stay out of mud puddles. There is no clutch, stickshift, or brakes. Pushing forward makes the thing go forward, pulling backwards makes it go backwards.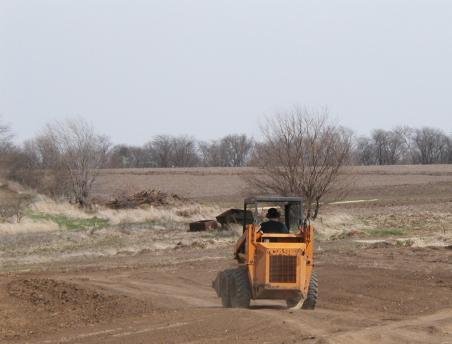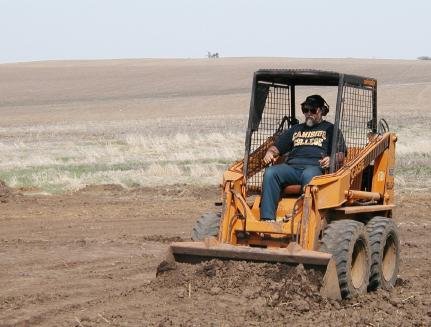 It was a pretty successful day. I only hit the garden fence once. I made a lot of progress on the first two jobs Lee gave me to do. Tomorrow, weather permitting, I should be able to finish most of the fill around the shed and maybe learn how to do some levelling.
One more career option in case teaching doesn't pan out.