As Mom would say, I'm so mad I could spit nickels. I just blew away this entire page by answering a stupid question from Dreamweaver. It's the largest piece of text I've lost in ages and ages. I usually save every paragraph or so, but I guess I'm a little road-weary. Here we go again--this time, with a little prudent paranoia!
I'm out in back of Lee and Wanda's house this morning, smoking the next to last of my Cuban cigars and waiting for the washing machine to finish.
After I finished my laundry, I drove over to Regina's house to say goodbye. I missed her because she had gone to Iowa City on an errand. I surveyed her menagery for a while, wondering if I could get across the fence twice to untangle Joseph, the lamb, who had wrapped his lead around a small tree stump and was looking hungry and unhappy. I made one half-hearted attempt to get myself over the gate--away from the electrified fence--but decided that my climbing skills were just shy of what was needed. I found a coffee shop in Kalona, ate a huge cinnamon roll, read the newspaper, and waited for Regina to report to work. I took her keys and went back to rescue Joseph, but either he had smartened up a whole lot while I was gone or else a neighbor took pity on him. But the return trip gave me a chance to photograph Messiah, the peacock, the rooster and a hen, and Winston. Neither Messiah nor Winston would sit still for a really good shot, but they're recognizable.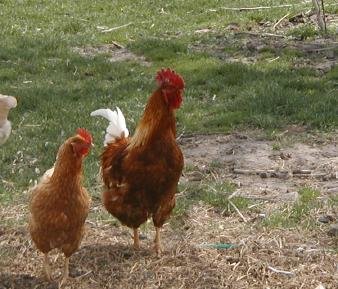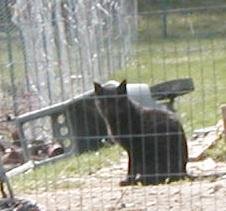 I ambled across southern Iowa. I was in no hurry, since I had all afternoon to get to Betsy and Brian's house. I got a little lost looking for a park to take a nap, followed a river west a ways, stumbled onto old route 92, and eventually got back on the main road. I found a nice town square to nap in; the parking spaces were separated from traffic by a low curb. I woke myself up two or three times by snoring too loudly. Next time I need a nap, I'll have to see if I can put the seat down lower and nap on my side.
I also need to work on my tourist skills. I neglected to photograph the house, the two-story tree house, and the small herd of goats that Betsy and Brian keep. I also failed to stop at an abandon homestead just a few miles west of their place. It's hard to shake the mentality that I have to press on at full speed. There's no rush. The journey itself is my destination.
Saturday, April 20: Maloy to Sterling, Colorado
This was the first day of trying to achieve maximum mileage. I hope to get to Truckee, California, in three days. But I couldn't persuade myself to get back on route 80. I followed route 6 across the bottom of Nebraska all day long, passing through many small towns and villages. I think I'll stay on back roads tomorrow, too. On Monday, if I have to, I can find the expressway and whip through Nevada.
This is just one of dozens of grain elevators I passed in Nebraska. It's an amazing system. I'm also impressed by the size of the machinery used to plow, plant, spray, and harvest the fields. I think often of Greg Widger, one of my Ellicottville friends who grew up on a farm. He taught me to drive a tractor and how to throw bales of hay into and out of the loft. He died in his garage years ago; some say it was suicide, but his mother believes he died of a heart attack. Either way, it was a tragic end to the life of a friend whom I remember with affection and gratitude.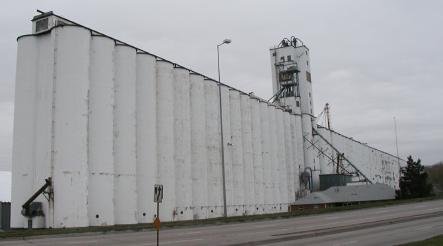 On route 6, I made a brief stop at a shrine to Our Lady of Fatima and found an evening Mass at St. Catherine's. Afterward, I had the road all to myself for miles and miles. The farmers are praying for rain. I drove through a light mist most of the afternoon, climbing higher toward the mountains, and stopped at dusk. I thought I saw some light patches of snow and the radio talked about temperatures in the single digits up in the mountains. I hope the pass is open in northern Colorado tomorrow.