Almost by accident, I found the perfect spot to stop overnight. I was attracted first by seeing two or three small no-name motels. After picking one, I noticed that it was next door to a tire repair business and a Chevrolet dealer. When I went out for some Gatorade and chips in the evening, I found still another repair shop that promised to change tires in 20 minutes.
The Big O Tire Repair Shop was as good as its word. I just barely had time to finish my bacon, cheese, and egg McMuffin and browse through the best parts of the morning paper before the job was done. I'm going to hook up with the dreaded I-80 and aim for maximum speed across Utah and Nevada. I figure that it is close to 600 miles to Monika and Frank's house in Truckee.
Monday Evening, April 22: Heber City, Utah, to Ely, Nevada.
These are the mountains behind my motel in Heber City. It was the perfect place to stop. Route 40 becomes an expressway leading to Park City and I-80 just to the west of the town. I didn't find that out until I hit the road this morning.
On my way to Salt Lake City, I realized that I might find a Kinko's near the University. I followed the signs for the University, asked directions three or four times, and spent 45 minutes catching up with some of my e-mail. I checked my itinerary and found out that if I made it to Reno today, I would be TWO days ahead of schedule. I'm just not very good at making plans and sticking to them, I guess. So I dawdled in town a bit, spending a while at the This Is The Place memorial park. I had heard of this statue in my Jesuit History course. It was a Jesuit missionary who told the Latter Day Saints about the Great Salt Lake. When the refugees reached this spot, they said, "This is the place that that crazy priest told us about."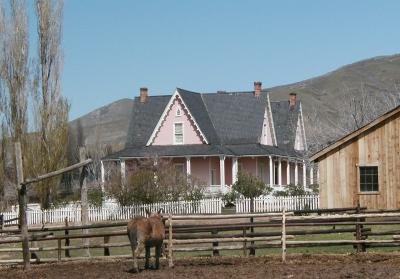 The only road on my map that led toward Nevada was the dreaded I-80. The speed limit is 75 mph. I was perfectly happy to obey the speed limit for the first time in years. The Bonneville Salt flats are located just at the Utah-Nevada state line. I went on pilgrimage down the access road, but speed trials don't start until the pools of water from winter rain dry up in the summer time.
In Nevada, I turned south on route 93A and went through a great, dry basin between two mountain ranges. I again had the road mostly to myself. I pulled into Ely around 5:30 PM, I thought; but after checking the map, I realized that it was only 4:30 Pacific Time, and I hustled off to the local library to finish handling my e-mail. The library is nestled under a shady grove of mature white pines next to an ornamental pond. It was a lovely oasis after the ride through two deserts.