It is very, very difficult to photograph black cats. The camera just doesn't pick up the highlights in the fur the way the eye does. I did remember to set the "red eye" option on the flash. Kitty was not the least bit interested in being photographed.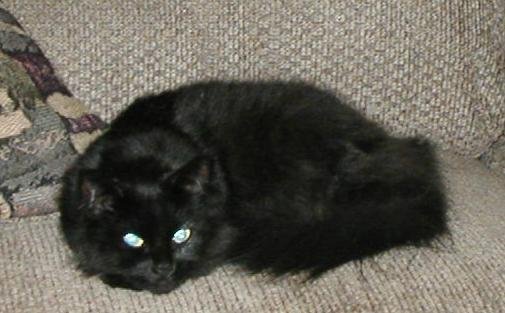 Tarah or Jacqueline took this picture of Dom and Jersey on Sunday morning. Dom came home after ten hours in the bakery, covered with flour, and ate two big Donut King donuts and then some leftover pizza. Jersey started spit-shining Dom's boots for tomorrow's trip to work.
My first stop was in Santa Rosa to have lunch with Ann Scott and to discuss the Polanyi biography. We both wish that we could find a publisher willing to produce the book. I've been working on it since Christmas of 1996.
This rose has travelled with the Scott family from home to home. It's been transplanted many times.
An hour or so after leaving Santa Rosa, I reached the Pacific Ocean. I followed California Route 1 to its end. I laughed and laughed as I swung the wheel this way and that. I'm not used to hairpin turns! I took every chance I got to let faster traffic go by me. It's not just the law. It's also a lot more fun to drive at my own pace.
I had to backtrack a hundred yards or so to enter the driveway for this little pottery shop. It is mostly raku and stoneware. I bought a small green raku for Dad, and the potter threw in some shells from abalones which he and his wife had harvested in the bay below their house. Their web site is <http://www.riverpottery.com/>. The potter said that they can make 10' vases.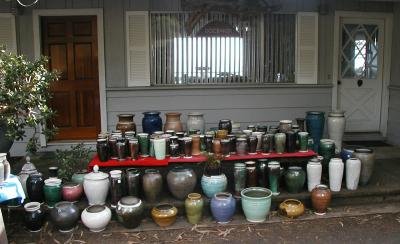 Late in the day, I opened the bag that Jacqui had given me. It was filled with goodies. I decided to imitate Dom, so I started with the Donut King old-fashioned donut, then went on to the rice cake and more sensible treats. I also stopped and bought some cheddar cheese and beef teryaki strips to eat with the loaf of bread that Dom had baked the night before. It was a great meal, though I often had to interrupt eating to keep the car on the road.
I drove a little longer than I intended to. I got onto route 101 just as daylight was fading, and soon I was in total darkness in a most amazing forest. I got more and more cautious as I went along. I saw some giant redwoods along the way. Today, I think I can get on the Redwood Highway before rejoining 101.