The hotel in Garberville was trimmed in redwood. The scent was marvelous. I dreamed a lot about Grandad's cottage at Timagami, which also had a wonderful woody smell.
I thought I would wake up at dawn because I went to sleep shortly after arriving at the hotel. I was wrong. (Those are the three hardest words for a man to say.) I got up around 9 AM, lingered over English muffins and a USA Today, smoked a couple of pipes and updated my diary. I think I checked out around 10:30. I thought I was just six hours from Portland. I was wrong. I followed the hood ornament down the Avenue of the Giants, stopping frequently to walk and marvel. When I got back on 101, I thought Oregon was within spitting distance. I was wrong. I called Dez at 5 PM and estimated I would get to his house between 10 and 11 PM. I was wrong. I didn't pull in until midnight. But this is the kind of day I have always dreamed about: forests, mountains, beaches, and wonders of human invention and ingenuity. It was a great day.
Garverville is toward the right in this picture. The big black road is 101. The Avenue of the Giants is the wiggly red line.
In retrospect, I should have allowed three days to go from Santa Rosa to Portland. Next time!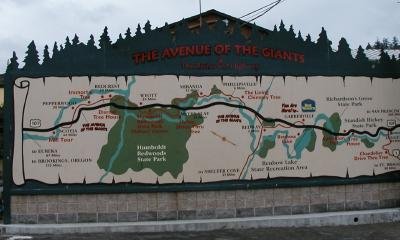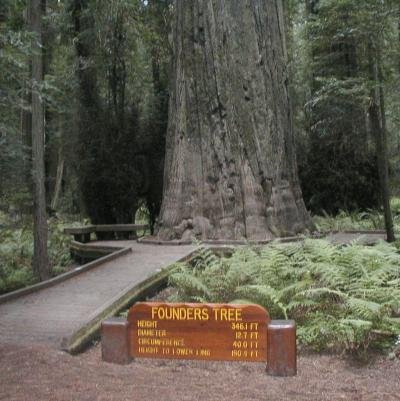 Monday, April 29: Garverville, California, to Portland, Oregon

A.