Dad's sister, Ursula, wrote this memorial for their father. Mom found it in her files as she was going through the family papers after Dad died.
Born August 6, 1890, in Shadad, Ontario, near Renfrew, Ontario, where his parents had a farm. Parents were Martin Milewski and Elizabeth Perszyk. Dominic was the 8th of 11 children who lived to adult age. Four died in infancy.
At age 13, Dominic went to work as a stable boy for a doctor in Renfrew. The only formal education he received was when the doctor's wife taught him to read and write.
At 14, he went up to Northern Ontario, working first as a cook's helper in one of the silver mining camps in Cobalt, Ontario, then on up to the Porcupine area to work as a cook's helper in the gold mining camp there. He was there during the Porcupine fire that swept through the area in 1911. He and two friends survived by paddling out to the middle of the lake and sitting in the boat with wet blankets over their heads until the fire subsided.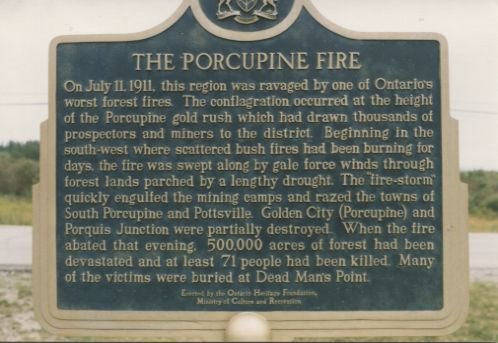 After the fire he returned to Renfrew where he worked as a cook in lumber camps nearby. He met Mary Anne Welcheski in Renfrew in 1914. He was working as a cook at the Black Donald Mine near Renfrew (in the staff house) when he and Mary were married on June 25, 1917. Ursula Margaret was born in Renfrew on May 30, 1918.
In 1920, he moved with his family to Espanola, Ontario, where he ran a boarding house for the Spanish Pulp and Paper Company. Dermot Wenceslaus was born in Espanola on September 28, 1921.
Moved to Schumacher, Ontario, in the spring of 1922. About three months later, he took over the management of the Queen's Hotel on Third Avenue in Timmins, Ontario. Desmond Dominic was born in Timmins on August 3, 1925. He gave up management of the Queen's Hotel in the spring of 1926 and went prospecting whenever he could get a grubstake. The family moved to 29 Main Avenue in Timmins. He cooked for a time at a staff house of the McIntyre Mine. Brother Philip Moleski came to live with the family in 1926. His father, Martin Milewski, came back to Timmins in 1928, destitute and ill, and also came to live with the family.
Dominic and Mary and the three children moved to Sudbury in 1929. Here Dominic went into the dry cleaning business with his borther Jack Moleski working for him, Mary helping with special cleaning, and Ursula (in first year of High School) going to the shop after school to answer the phone and deliver clothes (via streetcar) around Sudbury and Copper Cliff. Lawrence Thomas Martin was born in Sudbury on February 14, 1930. A severe flood in that area of Sudbury wiped the dry cleaning shop out in the fall of 1930. The name of the shop was "Sudbury Valet Service."
Dominic got a job cooking at a mining camp at a place called Fraserdale up in the James Bay area. When that job finished in the early summer of 1931, he went down to Kirkland Lake. Here he worked as a hard rock miner at the Hargreaves Gold Mine for about six motns from August 1931 to January 1932. This was the only time in his life he ever worked as a hard rock miner. Meanwhile, in August, he also opened a boarding house on Hudson Bay Avenue in Kirkland Lake and ran it for about ten months. In the spring of 1932, he built a small house at 128 Carter Avenue. For the next four years during the Depression, he did some prospecting and any odd jobs he could get. He was unemployed for a time and the family existed on paper route money earned by Dermot and babysitting and odd jobs by Ursula--with a couple of months on "relief" at one time. In 1936, he got a job managing a Lumber Camp at Larder Lake, Ontario, and was in that job until the spring of 1940, when the camp closed. He then went to work as a janitor at the Kirkland Lake High School until 1942. Some months later he went to work as a laborer on surface at the Sylvanite Mine. He was in this job for a number of years until around early 1955 when he became ill with diabetes and was no longer able to work.
Dominic died in North Bay, Ontario, on November 24, 1967, and is buried in St. Mary's Cemetery there.
From memories and research done by Ursula M. (Moleski) McEwen
Ganges, British Columbia, Canada
January 1, 1990