Table of Contents
System
   Operating System: Windows Vista™ Business (6.0, Build 6002) 
                     Service Pack 2 (6002.vistasp2_gdr.090803-2339)
           Language: English (Regional Setting: English)
System Manufacturer: Gigabyte Technology Co., Ltd.
       System Model: EP35-DS3P
               BIOS: Award Modular BIOS v6.00PG
          Processor: Intel(R) Core(TM)2 Duo CPU     
                     E7200  @ 2.53GHz (2 CPUs), ~2.5GHz
             Memory: 6142MB RAM
The Problem
The sun takes its place on my screen.

I can mark a region to capture.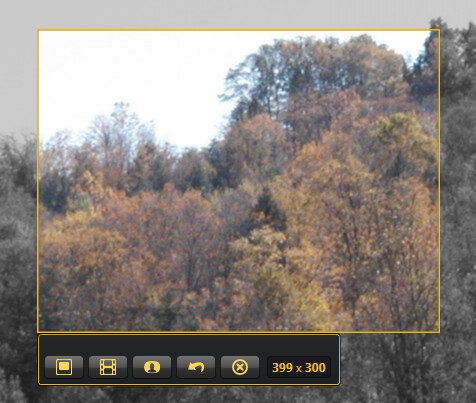 When I move my mouse to the menu below the capture area, Jing fails with the error message, "Jing has stopped working." The movement of the mouse into that area triggers Jing to collapse.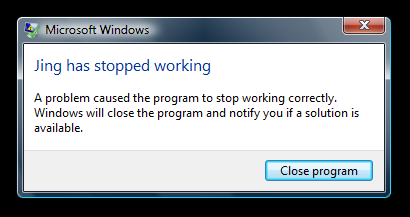 Failed solutions
Upgraded MicroSoft .net (3.5, 4 beta 2).

Uninstalled all versions of .net and reinstall 3.5.

I cannot remove .net 2–it is considered part of the operating system.

Re-installing 3.5 re-activates 3.
         2.0.50727.4200
         ->C:\Windows\Microsoft.NET\Framework\v2.0.50727

         < Installed .NET Frameworks >
         .NET FW 2.0 SP 2
         .NET FW 3.0
         .NET FW 3.5 SP 1
Turned off IIS (did that for WAMP; didn't help Jing).

Deleted Jing .xml files (deleted the whole TechSmith directory).

Unplugged MS webcam.

Removed MS webcam driver from the system.

Made sure that MSCamsvc is off.

Turned off wireless mouse, tried USB mouse.

Exited Skype.

Rebooted dozens of times.