Table of Contents
Why should I use Thunderbird?
Thunderbird

is

open-source software

–free to non-commercial users. The software is maintained by a large number of open-source enthusiasts. There is no single-point-of-failure (as there was with

Mulberry

when Cyrusoft went bankrupt).

Thunderbird is an

IMAP client

. It can also do POP, NNTP (Usenet newsgroups), and RSS feeds if you want to use it with an ISP other than Canisius. As a full-featured windowing program, all of the formatting of the contents of e-mail is done by your computer. There is no agonizing delay waiting for Griffmail to redraw and transmit the whole [

insert expletive

] page in response to commands.

Thunderbird's toolbars, fonts, font sizes, and page layout are customizable.

Unwanted posts are easily identified and deleted using a variety of methods that I find vastly more intuitive than those of Griffmail. Standard Windows methods of selecting and deleting list elements are implemented (ctrl-A to mark all, shift-arrow to extend a selection, ctrl-click to add or subtract an item from a set of selections, Delete to delete, etc.). Junk Mail lists can be sorted alphabetically or by date or sender, which can make it easier to find the false positives.

Thunderbird can be configured to save, copy, or move material to your local drive (drafts, sent-mail, received-mail, etc.)

Because I said you should.
Why shouldn't I use Thunderbird?
You will have to climb various learning curves.

Thunderbird does what you tell it to do. If you fail to tell it to do something you want, it won't do it.

Thunderbird's spam filters are applied after Griffmail's. If you want to whitelist an address that Griffmail is blocking, you need to log into Griffmail and make that adjustment (or else write a Thunderbird filter that retrieves posts from Junk Mail).

Thunderbird has a much more powerful set of filter options, including the ability to define new header fields to use in a filter. It can take a while to learn how to use this feature wisely and well.

Griffmail can do almost anything that Thunderbird can.

Griffmail is fully supported. Everyone on the Help Desk knows how it works. It is already "installed" on the campus server and will run right first time, every time. All you need is your name and password.

If you use Thunderbird to move e-mail to your computer, you become responsible for backup. E-mail that is left on the IMAP server is backed up by ITS.

Things downloaded or moved to a local folder become invisible to computers accessing your account from elsewhere. Things left on the IMAP server are accessible from any computer you're using. (Of course, you can use Thunderbird without taking advantage of its ability to move e-mail to local folders.)

You are afraid that if you do something wrong, computers will burst into flames and send sparks and smoke into the room.
Installing Thunderbird
1. Go to Thunderbird home page.
2. Follow links to download & install Thunderbird for your operating system.
3. After installing Thunderbird, open the program and click File > New > Account.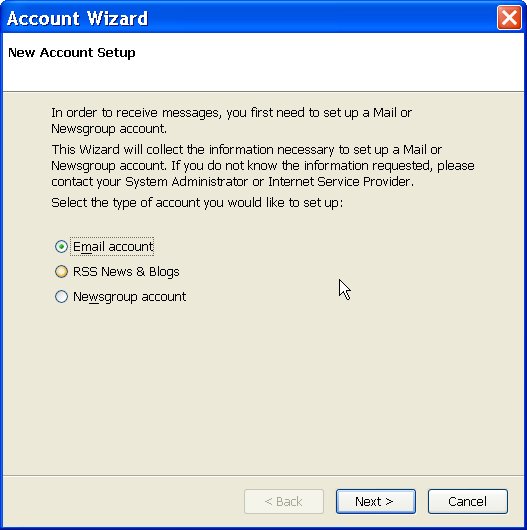 4. The default selection is e-mail. Click Next to continue. 5. Read the Identity screen to learn about these two fields. Insert the name you wish people to see when you send e-mail and the e-mail address to which you want replies to be sent. Then click Next.
6. Select IMAP and insert imap.canisius.edu into the text field. Then click Next.
Please note: This image shows that I have already configured Thunderbird to use smtp.canisius.edu as my outgoing mail server. If you are installing Thunderbird for the first time, this screen will have another field to fill in smtp.canisius.edu.
7. Enter your Canisius username, then click Next to continue.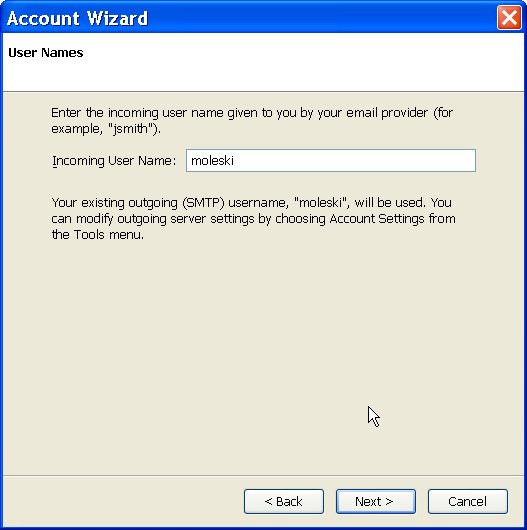 8. The next screen (not shown) will give you an overview of the information you have just supplied. Read it carefully to make sure you have typed everything correctly. Click Back to go back to previous screens or Finish to end the configuration.
9. Thunderbird will try to open the new account and will prompt you for your password as needed. On those prompt screens, you may ask Thunderbird to save the password or not, as you prefer.
Repairing or Reconfiguring the Account Settings
1. Tools / Account Settings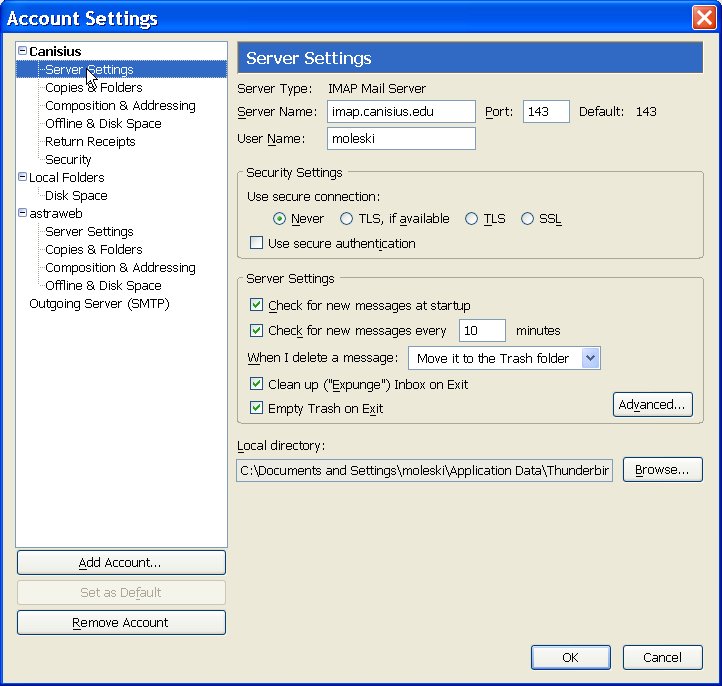 In the server screen shown above for the IMAP settings, you may check off SSL to use a secure (encrypted) connection.
In the smtp configuration dialogue shown above for the SMTP settings, you may check off TLS to use a secure (encrypted) connection.
Connecting to the Canisius LDAP Server
Canisius maintains an online address book for all faculty, staff, and students. From the main Thunderbird screen, select Tools / Address Book.
In the Address book, select Files / New / LDAP Directory …
In the LDAP dialog, insert the following information: Name: Canisius (or whatever you prefer to call it) Hostname: ldap0.canisius.edu (that's a zero after ldap) Base DN: dc=canisius,dc=edu Port number: 636 (you may leave this blank) Check the box for "Use secure connection (SSL)".
Click OK. You should now be able to place the name of the person you want to write to in the "To:" field of a composition screen. LDAP will search for a match in the Canisius directory. You can also access the LDAP directory through Griffmail.
What about other e-mail clients?
You can undoubtedly use the same basic information about the Canisius mail system to configure other clients to access your e-mail. I used Mulberry very happily for many years until the company went bankrupt (it's now back as open-source software, however). I'm confident that Outlook or Outlook Express can be used like Thunderbird with multiple mail accounts, RSS, and newsgroups, though I haven't used either one myself. I have tried Eudora from time to time, too; I am not familiar with the current versions. Sin bravely! The worst that can happen is that all of the computers connected to yours will catch fire and throw off photogenic streams of smoke and sparks.
Exchange setup (2010)
IMAP settings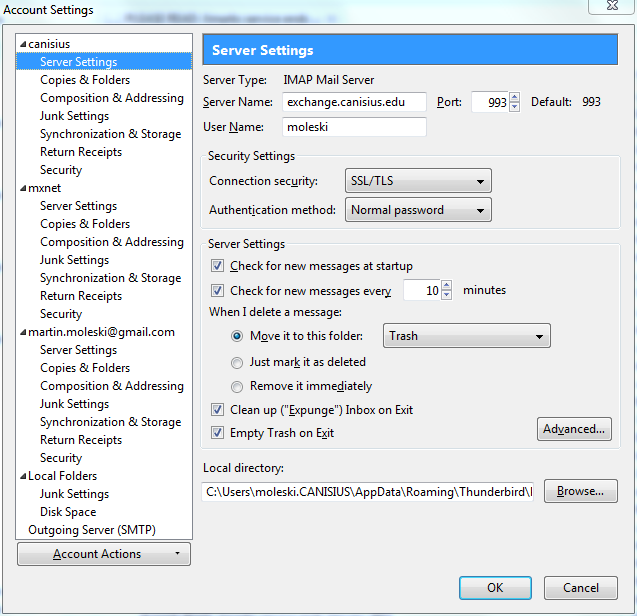 SMTP settings