These photos and text came from an ad on e-bay in the spring of 2002.
The airplane has been sold.
June 12, 2006
Hi folks,
I bought 230 PK (the Ultimate 10-200 built by Paul Kruze about three years ago. I bought it from Jack Watson who provided the picture and writeup on your site.
Carl V. Cline
---
AIRCRAFT DESCRIPTION:
I have too many planes and not enough time.
This 1988 Ultimate 10-200 aerobatic airplane has only 131.0 hours total time airframe and engine since new. Kept indoors since new. The major assemblies (wings, fuselage, tail feathers, engine mount and gear assembly) were constructed at the Ultimate factory in Canada by Gordon Price, the aircraft's designer.
Final assembly and covering was by Paul Kruse. Noted for it's +/- 9 G symmetrical wing the Ultimate is a Pitts eater. Roll rate is approximately 400 degrees per second when the 4 almost full span ailerons are against the stop. The only hardcore aerobatics were flown by me during the last fifteen hours of operation following reassembly after avionics and new part installation (see following text.)
I'm an airline captain, air show performer and race pilot and have never flown a finer aerobatic bi-plane! The Ultimate's patented droop aileron design with full back stick is a marvel of small plane engineering and provides increased lift on over the top inside maneuvers to help keep you out of an accidental inverted flat spin. The aircraft can easily do 5 vertical rolls with a 4-5 G pull to vertical from cruise airspeed.
The fabric is Stitts and the paint gloss black with yellow striping. Interior is painted yellow, to match new temper foam cruise seats. Seats are easily removable for parachute use. I have a new Strong parachute with color coordinated canopy cover with the words Thunderhawk (name I gave aircraft) embroidered on harness that I will sell to successful bidder for $1,000 (cost $1,450 five months ago) if they need a chute.
The Bendix/King logos (as well as other logos) are vinyl and can be easily removed with a aircraft fabric iron if desired. The Bendix/King logo was placed on the aircraft for a promotional they had planed but never came to pass. The upside was that the aircraft was filled with the latest Bendix/King nav/com package. (See details in Specifications)
This aircraft has about 5 inches more shoulder room than a Pitts and can accommodate big pilots. I'm 6' and 240 lbs and fit with room to spare.
SPECIFICATIONS: TT 131.0 Airframe and Powerplant. Monty Barret Built O-360-A1D dyno tested to 210 plus HP. 4 into 1 exhaust. Pressure cowl with beautiful three blade aerobatic prop by Prince with bullet spinner up front. Ellison throttle body for inverted fuel, Christian inverted oil. B&C lightweight alternator. Electric starter with GPU plug in the event of battery failure. New custom smoke system by Rich Precision with in-line check valve to prevent smoke dribble. Quick drain oil fitting. New Champion ignition harness and plugs. Compression in high 70's for all cylinders. New brake pads on Cleveland wheels and brakes. New Haigh tail wheel. New Hooker Harness custom color matched for airframe paint scheme. New carbon fiber instrument/circuit breaker/smoke switch facia panels by Aeroenhancements with gold inlaid lettering. New temper foam cruise seats. All new avionics package includes: King KX 125 digital vor nav/ 720 com, King KMD- 150 color moving map GPS with topography feature, King KT-76 A transponder with blind encoder. GEM graphical engine monitor system. Flightcom Digital voice recorder and clock. Instruments include: altimeter, airspeed, g-meter, wet compass, manifold pressure, RPM tach, oil pressure, oil temp, (EGT & CHT through GEM system,) fuel pressure. Includes electric boost pump with primer and fighter style throttle with push to talk on throttle.
PAINT CONDITION: New paint on cowl, spinner, wheel pants and fillet fairings. Inside of cockpit was painted Yellow when air craft was disassembled for radio installation. Lower wing repainted 3 years ago (shows new), remaining paint 7-9 on scale of 10. Beautiful overall.
Vehicle Condition OVERALL CONDITION: No known problems. Comes complete with fresh annual condition inspection. Available for inspection in Daytona Beach, Florida. Terms of Sale TERMS OF SALE: I require a 10 % deposit by either wire transfer, certified check or money order within three (3) days of bid closing. Transaction must be finalized within 10 days of bid closing. Only bid if a serious buyer...this is an incredible airplane for the serious or not so serious aerobatic enthusiast. The plane is to be picked up by winner or their designated pilot or I will deliver anywhere in lower 48 for expenses.
Contact Information: Jack E. Watson Daytona Beach, Florida 386-679-7048.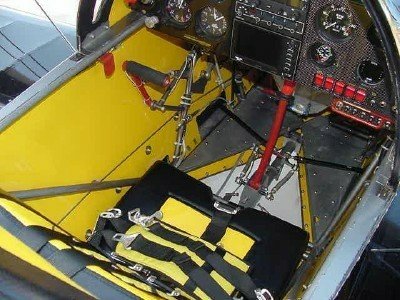 Saturday, July 27, 2002
Hi Marty,
I am the builder of 230PK as pictured on your page. I lost track of it some years ago and am glad to see that it is still flying!
If I can find a set of plans, I am thinking about building another 10-200 or maybe even a 10-300. Let me know if I can be of any assistance.
Thanks again,

Paul Kruse
---
Return to index.
---