Tuesday 11 January 2011
The ready-to-cover Ultimate 10-200 airframe that was advertised here in November has been sold.
Friday 22 October 2010
I've gotten a lot of new pictures of N360JW from Jay Womack. I modified his page to show the thumnails from my Picasa album for his plane.
Sunday 22 August 2010
Juaquin Rodriguez has been given a partially-completed 10-200. He plans to set up a build page for the plane. Update, 12 September 2010: album for build pictures.
Friday 6 August 2010
C-FPVJ has new owners and is being rigged for its first flight.
Sunday, March 21, 2010
Jay Womack sent me a link to a video of his Ultimate 10-200 N360JW in flight. I've also added some pictures of a 44% scale model by David Clarke of Jay's plane.
Wednesday, March 10, 2010
I moved to a new server for this website. Let me know if anything is missing or broken. Thanks!
Wednesday, March 3, 2010
I started in on a more detailed examination of the myth that an RC model preceded the design of the Ultimate Biplane. I grant that an RC model of the 10-300 flew (and crashed) before the first 10-300, but I doubt very much that the designers of the model deserve as much credit as they give themselves.
Monday, July 27, 2009
I did a Picasa album of instrument panel pictures for a fellow who wants to do a semi-scale cockpit in an RC model. It looks to me as though the instrument panels are all custom jobs; no two in my collection are much alike.
Wednesday, April 23, 2009
Mike Davis's N69RJ (a Pitts with some Ultimate features) is up for sale.
Saturday, February 7, 2009
I received an e-mail from Gord this week. Sounds like he is not just alive and well but having more fun than is allowed by law. Go Gord!

Sandy Price's nephew, Adam Graves, was recently honored at Madison Square Garden ceremony in which they retired his Rangers jersey (number 9).

Meanwhile, I've starting learning about how to be root administrator on a remote server. Result: the Ameliapedia.
Monday, February 2, 2009
Thierry's site about the Ultimate has been relocated.
Sunday, September 7, 2008
N40JU has been sold to Bjoern Kuerten. He's very pleased with the plane.
Sunday, May 4, 2008
Jay Womack is still enjoying N360JW.
Saturday, May 3, 2008
Gary Mey has purchased N360SH from Kendall Simpson and is looking for some tips on modifications he can make to it.
Friday, March 28, 2008
Monday, January 14, 2008
Created page for Jon Locklear's N988SF, a 10-200. Amazing paint job!
Wednesday, November 14, 2007
Peter Chapman sent me some pictures of Gordon from 1988--doing the Aresti dance with biplane gloves!
Monday, November 12, 2007
Sad news: N38PC ("Plumb Crazy") was destroyed in a crash yesterday. The pilot was able to parachute safely.
Monday, November 12, 2007
Got a note and some pix from Gordon. He seems to be having too much fun!
Monday, August 27, 2007
N38PC (Plumb Crazy) has been sold. Brian Beaudry ferried it to its new owner and reported that the "fit and finish is unbelievable." Rob Holland has also sold his interest in N200RB and is now flying an MX-2 monoplane. I've separated Rob and Brian's notes on N8UB from Rob's page.
Sunday, January 21, 2007
Sad news: Devin York notes that Glen Breitsprecher has passed away and that his company, Airplane Plastics, has gone out of business. RIP.
Sunday, January 21, 2007
Rob Holland has some new videos on his Ultimate Airshows website.
Sunday, January 21, 2007
Devin York & co. are selling parts and plans for the Lazer Z-200. Contact York Enterprises. Homebuilt, +/- 10, based on Leo Loudenslager's design. It's not an Ultimate Biplane, but Devin and Heather have been big supporters of Ultimate builders and this web site for many years. More power to them!
Monday, January 1, 2007
Kendal's Simpson's Home Page--with videos of him flying his Ultimate & lots of photos.

He has sold his Ultimate 10-200 (N360SH) and is finishing a Pitts Model 12.
Thursday, November 2, 2006
Photo of Devin York's first LaserZ fuselage.
Thursday, October 5, 2006
Great news! The 10-100 prototype has moved to its new home!

The news came from Cam Harrod from Barn Full of Parts.
Friday, June 16, 2006
N40JU (a 10-200) is for sale in Germany.
Tuesday, May 30, 2006
Link to Sami Kontio Airshows: http://www.unlimited.fi/. Sami flies OH-XSF.
April 15-24, 2006
I've applied some new templates to page layout on this site. By using cascading style sheets and templates, I should be able to update the look of the site relatively easily from now on.

After five days of hacking away at this, I've decided that "relatively easily" is a relative term. :-O
Tuesday, March 14, 2006
I've added Gary Slutz's phone number to the information about N38PC ("Plumb Crazy"). It's for sale. Call Gary at (330) 236-5041.
Sunday, December 25, 2005
News from Rob Holland, including a link to a video of him flying his Ultimate 20-300S--it's breathtaking!
Sunday, December 25, 2005
I've reorganized the page of comments from owners, builders, restorers, and pilots. If you see any broken links or spot planes that should be added to the list, please let me know.
Sunday, December 25, 2005
Gordon's daughter, Stephanie, opened The Dam Pub this year. Stop by and toast the Ultimate Biplane with an ultimate single-malt whiskey!
Wednesday, December 21, 2005
Two great links from Kendal Simpson:

http://www.acronut.com/ and www.Ultimateairshows.com.

Also a little update on N360SH.
Tuesday, October 4, 2005
Jay Womack's 10-200--N360JW.
Tuesday, September 20, 2005
Three 10-200s for sale (different owners, different locations): see Barnstormers.com. One is Plumb Crazy.
Friday, September 16, 2005
Devin York has complete set of plans available for the 10-200.
Wednesday, June 29, 2005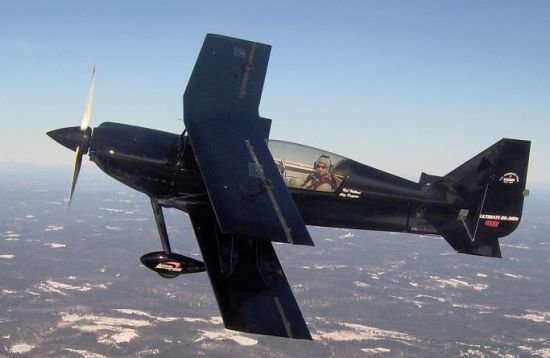 Rob Holland sent me a dozen photos, a PIREP, and some facts about Aerial Advantage's 20-300S (N8UB).
Monday, June 20, 2005
New page for Aerial Advantage's 20-300S (N8UB).

New page for Brian Beaudry's Advantage.
Monday, May 2, 2005
Thursday, August 5, 2004
I added a note from Brian Beaudry about Kendal Simpson's N360SH.
Wednesday, August 4, 2004
An outstanding evaluation of the 10-300S from Brian Beaudry and Rob Holland.
Monday, July 19, 2004
Created a new page for Kendal Simpson's N360SH.
Wednesday, November 12, 2003
Added a date and inserted a link in Gordon's biography. He placed 27th in the 1982 World Aerobatic Championships with his Ultimate Pitts.

A series of questions and answers about the 10-300 design.
Sunday, November 1, 2003
I ran out of disk space today, so I've been cleaning up some old files. Please let me know if anything is missing.

A note from Gordon about his last flight as PIC at the controls of an AC B747400.
Wednesday, October 1
Some RCAF F-104s over Bavaria.
Tuesday, September 30, 2003
New page on Gordon's RCAF days.
Tuesday, September 30, 2003
Plumb Crazy (N38PC) has been sold.
Tuesday, September 30, 2003
Friday, July 4, 2003
A new photo of OH-XSF on short final.
Tuesday, March 18, 2003
Release forms for plans/parts purchased from Ultimate Biplane Corporation.
Thursday, February 27, 2003
Contact information for the new Ultimate Biplane Corporation and Airplane Plastics on the plans/parts page.
Wednesday, February 12, 2003
Updated information and analysis from Francois Marquis.
Saturday, January 11, 2003
Photos of C-FPVJ by Xavier Mouraux.
Sunday, December 15, 2002
Photos of IMAC Ultimates by Xavier Mouraux.
Saturday, December 14, 2002
Dave touched up the prop on the third logo:
Friday, December 13, 2002
Logos from Ultimate Aircraft literature updated by Dave Bagwell. Devin York supplied the pamphlets and business cards. I've left these four graphics full-size on this page. I'll probably shrink them for use elsewhere.
Tuesday, December 10, 2002
Photo and link to G-Whiz Air Racing Team's S1C/S1S/Ultimate Pitts.
Sunday, December 8, 2002
Photo of Gregor Drnovsek's color scheme for his RC plane.
Sunday, December 8, 2002
Classes are over for the semester. I'm finally moving the site from rcwizard to moleski.net. You don't need a link. If you're reading this note, you've arrived. Welcome!

I'd be delighted to hear about missing pages, photos, links, etc. Comments, corrections, criticisms, etc.
Saturday, November 9, 2002
Tony Dieno sold his 20-300S to Aerial Advantage in New Hampshire.
Tuesday, November 5, 2002
Pix of Dale George's Chief and Lazair. He also has RC plans available for the 10-200.
Tuesday, November 5, 2002
Photo of a poster of C-GILB, the Labatt's Bluehawk.
Friday, October 25, 2002
New photo of Gordon Price in his younger days and of 10-100 001 coming out of the paint shop.
Friday, October 25, 2002
Update on Bob White's 50% 20-300 and Innovative Wings projects.
Wednesday, October 16, 2002
Link to Dale George's MobileAirships site. RC blimps in all sizes for all seasons!
Monday, October 7, 2002
Additional details from Dale George on the condition of the 10-100 prototype. It is in sad shape and needs a new home.
Thursday, October 3, 2002
Photos of Bevin Shively's RC Ozark Ultimate and his
Plum Crazy.
Wednesday, October 2, 2002
Tuesday, October 1, 2002
York Enterprises now offers all plan sets and parts for the entire line of Ultimate Aircraft designs.
Tuesday, October 1, 2002
Monday, September 30, 2002
Saturday, September 28, 2002
---
---