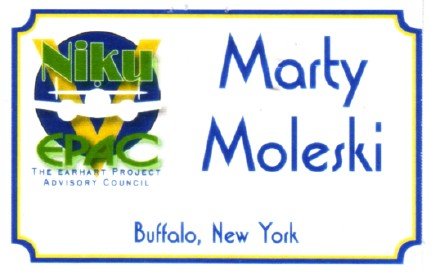 I was over at Dan Warner's house one evening in the summer of 2000. We were talking about Pratt and Whitney 985's, known as the Wasp Junior. I did a Google search and started reading about the history of the engine and the aircraft that used it. One of the links led to The International Group for Historic Aircraft Recovery (TIGHAR). I spent several hours after I came home reading about their search for Amelia Earhart's Lockheed 10-E, which used the 600 horsepower Wasp engine.
After I read everything on TIGHAR's web site (some stuff twice), I joined and became member #2359. I became active in the Earhart Forum, a mailing list that discusses how best to test the hypothesis that Earhart and her navigator, Fred Noonan, may have landed on Gardner/Nikumaroro Island.
I was invited to become a member of the Niku V Advisory Council in the summer of 2002. I spent a delightful weekend with the group in Delaware and got to meet a lot of people in person whom I had previously known only from e-mail.
I was sent to Fiji and New Zealand for six weeks in the summer of 2003 to search for the bones of an unknown person who died on Gardner Island prior to 1940. The bones were sent to Fiji in 1941 for analysis, but have since disappeared. Visit TIGHAR's web site to read all about the search for Amelia's bones.
I've recently (August, 2008) started reorganizing my research notes from 2003. Here is the current revision (2009).
2009: I've started learning how to be a root administrator on a remote server. It's been a challenge and a pleasure. I found out (much to my surprise!) that I love linux.
I've been work on installing and developing the Ameliapedia for TIGHAR.