Sami Kontio's Website: www.unlimited.fi (2006)
---
Hello Marty,
I am sending you some fresh pics of our Ultimate 10-300S. It is owned by Mikko Jagerholm and me, Andre Ronnberg. It has now a total time of 300 hours. It is flown in Advanced class competiton only, as we don't have the time for airshows. I will send you some more pics and info in a while. Here is for a start, i'll be back in a week. Going for a holiday in Greece.
PS. It is me on the pictures and I am sorry, I'm no sight for sore eyes!
Regards Andre
---
Hello Marty,
Here is some techincal info on our 10-300S.
It was built in 1988 by Gordon Price, serial number 300-003.
The engine is a Lycoming AEIO-540. This engine was built for Gordon Price and was used on his prototype. Lightweight starter and alternator is also there.
The prop is an MT three blade and governor is set at 2700rpm. The empty weight is1320 pounds with full electrical and radios, com and transponder. We also have a Rocky Mountain full engine analyser, which is good but we feel that oil pressure and manifold pressure should be doubled with conventional instruments, so we have them installed as well.
Stall speed is 60mph, max normal operating speed 160 mph, and never exeed speed is 250 mph. We like to see 200+mph in the aerobatic box. The plane carries 22 gal of fuel in its main tank and 30 gal in the aux tank.
The airframe is limited to +7&-5g. We have never timed the roll rate but it is outstanding, something like 360degrees/sec. We use a Hooker ratchet type harness! The tail wheel is steerable/full svivel.
I hope that somebody will have use for the information that we share. We will answer questions if there are any, and would love to make contact with other Ultimate pilots/ RC people. ... Andre Ronnberg
Links to More Photos:
Hello Marty, here is our aerobatic club homepage adress: www.ilmailuliitto.fi/taitolento then you go to Lentokoneet, and there you have some pics and info on the Ultimate. and then you go back to the main page and open Kuvia and then Kevätleiri (C. Maunory... there you have more pics. You will have more info soon! Regards, Andre
Sami Kontio's website: http://www.unlimited.fi
---
Now They want a Pitts S-12!
From: Andre Ronnberg
To: Devin York
Sent: Saturday, August 03, 2002

Hello Devin,

The Ultimate is now in Slovenia at AWAC 2002. Nice to see how it manages with all the monoplanes. I send a check for a set of Pitts model 12 plans to Mr. Kimball last week. We are going to keep the Ultimate as a Hot Rod competition plane and back it up with the Big Pitts. Forwarding this message to Mart as well.
Best regards,
Andre
---
March 14, 2003
Dear Marty,
I sold my share in the 10-300S Ultimate to Mr Sami Kontio! I am not any longer piloting it. It would be nice if you could update your site with this information!
Andre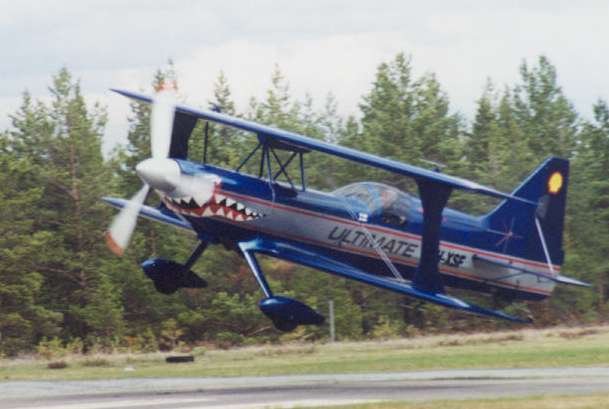 ---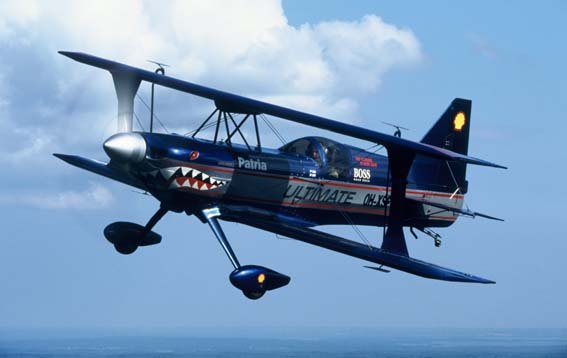 Photo by Freddy Stenbom, copyright 2004, all rights reserved. Used by permission.
Hi!
I found your website about the Ultimate through one of the Finnish owners of OH-XSF named Sami Kontio. I am writing a story about him for my magazine. He started out young with model flying and just 3 years ago started to fly in full sized plane. ...
I took a lot of new pictures of this Ultimate at Ljungbyhed and I have put two of them at http://www.hobby.se/Ljungbyhed/ where you can see a quick report from AWAC 2004 at Ljungbyhed in Sweden.
The Ultimate was doing fine in the AWAC with final results as follows:
22 Mikko Jägerholm, Finland
Feel free to use my pictures on your site if you give photo credit to me. I also have some air-to-air of the Danish Ultimate 10-100.
Best regards.
Freddy Stenbom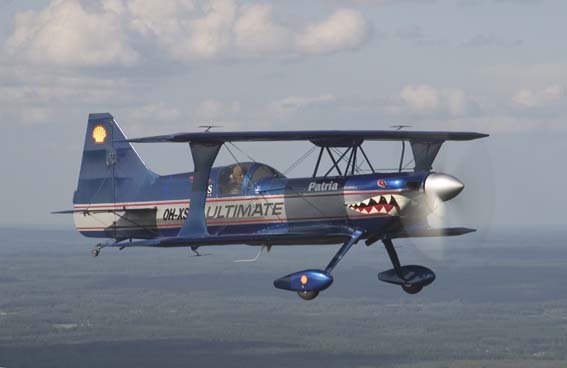 Photo by Freddy Stenbom, copyright 2004, all rights reserved. Used by permission.
---
Return to index.
---