Chronology

Hi Marty,
Here is our first airplane--Sanity 1--with the starfighter I last flew when I was 23. The Skybolt was built in my temporarily extended garage in 2 years, from scratch. I was inspired after a vist to see La Mar Steen who is a great guy.
I remember telling a friend I was building an airplane after 4 months work. He said "where is it". I opened a drawer and proudly showed him all the 4130 fittings I had manufactured. An airplane is simply a lot of little jobs.
It was nicknamed the "Flying Chainsaw" by one farmer in 1977 when I was practising for the nationals. He made the comment after I force-landed in his field.
The registration C-GSGS on Sanity 1 stands for Gord, Sandy, Stephanie and Glen.
Good memories.
Gord
Childhood in Toronto. Won a scholarship to earn his wings in Oshawa. "I learned to fly in an Aeronca Champ and have very strong feelings that people should still learn to fly in something like the Champ" (Sport Aviation, 1987).

Gordon joined the Royal Canadian Air Force at age 19. Flew Chipmunks, Harvards, T-33s, F-86 Sabres and CF-104 Starfighters. Daugher Stephanie and son Glen apparently were born during his tour of duty.

"Pilots from 422,444,434 and 421 RCAF Squadrons sitting QRA ( Quick reaction alert) nuclear strike for NATO. Hard to believe it was 39 years ago."
1964 -- Left the CAF and joined Air Canada at age 24.
1974 -- Started construction of Steen Skybolt? Won Keith Hopkins Award for Best Homebuilt in Canada.
1976 -- Skybolt flown; Gordon begins learning aerobatics.
1977 -- Took second at his first contest. Put a bigger engine on his Skybolt. Started building a Pitts. Crashed it on its second test flight after engine failure on takeoff.
1978 or 1979 -- Won Canadian National Aerobatics Championship with a modified Pitts. Damaged the plane in a forced landing after an engine failure.
1979 -- Built Cuby Acro trainer for Sandy (a clipped-wing Cub).
1980 -- Fifteenth in World Aerobatic Championships at Oshkosh with the Ultimate Pitts. In October, Gordon started work on the Ultimate Wing for the S1 Pitts:

Tips squared and moved inboard 9".
Oversize, symmetrical ailerons built from aluminum with a a thicker leading edge, blunt trailing edge, a special gap seal, and three hinges.
Slave strut and rear spar re-designed.
Lead fill in the slave struts for balance.
Rear flying and landing wires.
New upper cabane fittings.
Rated for plus/minus 8.5g.

1981 -- Founded Ultimate Aerobatics Limited. Began to sell plans and parts to upgrade Pitts: wings, wing root fairings, wheel pants, canopy, custom fuselage, etc.
1982 -- 27th at World Aerobatic Championships with the Ultimate Pitts.
1983 -- Sixth at Hilton Masters Championship in Phoenix, Arizona.
1984 -- Fifth at Philips World Aerobatic Challenge in Australia (see photo below). Hired a full-time engineer/draftsman in May. His Pitts was damaged while being ferried home from a contest in Alberta.
1985 -- The 10 Dash 100 was conceived in February and completed in October. Gordon took second at Hilton Masters of Aerobatics.
1986 -- 10-300 half-built. Investors sought to help with cash-flow problems. 35 Ultimate kits under construction. The prototype of the 10-200 was delivered to Joe Underwood of Oklahoma at Oshkosh; he competed with it in that year's Nationals.
1987 -- Fifteen employees. Great stress filling orders for the 10-100 and 10-200 while simultaneously trying to complete design and construction of the 10-300. The first flights of the 300 took place in August of 1987. Creditors and customers were unhappy and began to apply pressure for fulfillment of the company's commitments.
1988 -- Flying cautiously in order to avoid vertigo, Gordon flew the 10-300 to 15th in the World Aerobatic Championships in Red Deer, Alberta. Gordon performed a knife-edge spin at the1988 CNE airshow in Toronto in the haze over Lake Ontario; he called it "the most disorienting manouvre I was ever in."

1989 -- All employees laid off. The company declared bankruptcy. Streamline Welding advertised parts and plans for a while in the 1990s, but it, too, seems to have gone out of the airplane business.
Gordon's Career Highlights

1984: The Philips World Aerobatic Challenge.
Left to right back row: Victor Smolin, Kermit Weeks, Geoff Selvey,
Henry Haigh, Gordon Price.
Left to right front row: Eric Mueller, Sergio Dallan,
Richard Goode, Frank Fry
Photo from http://www.russianaeros.com/history24.htm
Two crash landings
Engine failures
Projectile fire extinguishers
Jammed controls
Inner-ear damage
Canadian National Aerobatic Champion: 1979, 1980, 1981
Canadian Open Aerobatic Champion: 1979, 1980, 1981, 1982
---
November 14, 2007
Hi Martin,
I just came across your site.
I have some notes saying that while the 10-300 was quoted at 1150 lbs, Gord Price's own C-GILB was 1245 lb.
I don't know what it "actually" was, but that was the empty weight registered on the data panel when I saw it in 1988.

Who knows if everything was actually finished and installed at the time of the weighing -- one could have the plane be fit to fly and still have stuff added later. I haven't double checked to see what my old Ultimate Aircraft brochures say.
I was an aeronautical engineering student back then. I would assistant judge at acro contests and flew a few hours of Decathlon time at the Guelph aerobatic school with Gord and other instructors. My parents happen to live in the town where The Dam Pub is -- I haven't yet stopped by to see Gord.
From hanging around acro pilots it seemed to me in those days that Gord would always be experimenting with a new model or new ideas.
It seems the planes were a much bigger hit in the RC world than in full scale.
Nice site to keep some memories alive!
Here are my photos of Gord doing his aerobatic 'Aresti dance' at the '88 Worlds with his special biplane gloves.
Peter Chapman
Toronto, ON
---

"For the record.... last time I was in command of an aircraft was on Air Canada Flight 873 from Frankfurt to Toronto on the 22nd of November 2001. I packed in so much in 44 years I am quite happy to take time pursue many other interests that have been a long time calling................but the love of flight is still there and of course ......tomorrow is another day."
---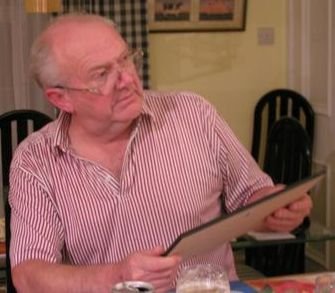 July 10, 2005--Retrospect and Prospect:
"Everything happens for a reason. Life is a journey and I must say I have been one of the most fortunate people in the world for my journey has reached from the very bottom of despair to the pinnacle of success. Experience..........good and bad is the goal.
"I last flew an airplane (Boeing 744) in November 2001 from Frankfurt to Toronto. I crammed so much into 43 years of flying that I left the arena, very, very satisfied.
"There is the odd thing that I would still like to do.
Top of the list is fly with [Rob Holland] in [his] 20-300S."
---
November, 2007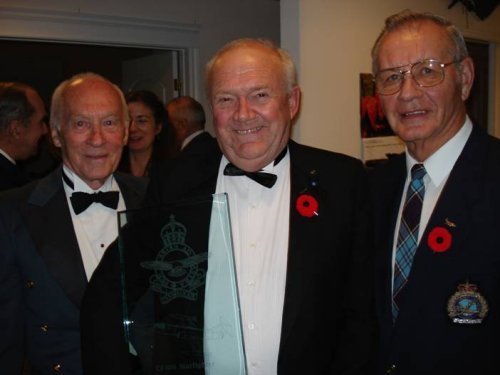 Gordon was presented with
"The Lifetime Achievment in Aviation" Award with the inscription:
"A Fellow Airman Held in high esteem."
422nd Squadron Leader De Peters on the left.
Brigadier General BR Campbell, Golden Hawks pilot and Gordon's hero
on the right .
"We heard the definition of a 'Fighter Pilot' and also a poem that I must get. In any case I fall into the category of 'Fighter Pilot' ......and now the Town has to deal with a resident Fighter Pilot.
"This trophy when backlit is spectacular so I'm thinking about where best to display it."

'Inch' Inchworthy presenting Gord with the esteemed and mysterious SLED club pin.
My impression is that the festivities took place at The Dam Pub. Gordon says, "Just coming down off the best trip of our lives. I will try and send a few pics when I get organized."