This page is badly in need of updating. Some are wrecked, some have found a new home. Right now (April 9, 2006), I'm just updating the layout of the pages. Content will be fixed Any Day Now.
---
This is a House of Balsa Extra 300 that Mark Kriz built.
I took off--OK, broke off--the scale wheels and replaced them with the fuselage-mounted, stupidly heavy 10 oz. landing gear that Dan Warner gave me and that I swore I'd never use.
I put about a hundred flights on the airplane with a TT .54 and a dozen or so with an OS .70. I gave the plane to Dan Warner, who has done major repairs on the cowl and monokote. He rebalanced it, and it flies magnificently.
We've now (2004) given the plane and engine to the Knabs. Mike had it out at the field last Sunday.
This is a Dazzler that Mark Kriz built. I've got about 50 flights on it. It's too tail-heavy right now, but it is a lot of fun.
Update (2004): we had an accident with this at Smith Field. Ran out of gas and hit a post among the grapevines. It's all repaired now, but I lost the Dazzler decal.
Update (2005): this is trashed and burned. Jeff "Thumbs" Liddel had an incident with it when my back was turned last July.
I've got two combat planes in flying condition: a Gremlin that I cut out of pink foam and a Predator. The Blue Wonder, my first hand-cut plane, is dead and buried. I guess I'll have to update my Before and After pages with the photo of the bonfire. :o(
Meet Mad Dog. Dan broke the fuselage in three parts a few weeks ago. He's got it all back together and is just waiting for inspiration to strike to recover it.
This was a very good crash. Not only is the damage repairable, but it motivated me to get to work on the Patty Wagstaff Extra 300 ARF that was languishing in the box in my bedroom.
Uh, this one's crashed and burned, too. Someone tried a snap roll at full throttle and the wing did, in fact, snap.
This is an UltraSport 1000 that I started three years ago (2001) when I wrecked my pattern plane.
After MUCH hemming and hawing, I installed an MVVS 1.6 gasoline engine with a tuned pipe.
I've busted out the landing gear twice. I think I've learned how to build a better support system now. Time will tell. It's definitely not going to be a Hangar Queen. I've taken out lots of ugly insurance on it in the first 17 flights.
I burned up an engine on this last fall. I've constructed a new engine out of parts of two engines. Haven't tried it yet this year (2005).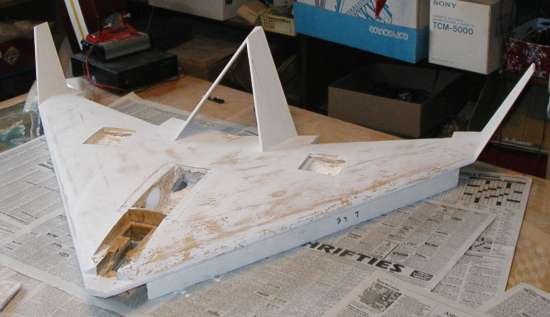 This is Winston's Flying Wing, a.k.a. the Renegade. I'm experimenting with a lot of building techniques that are new to me: foam cutting, vacuum-bagging, and spray-painting. The basic structure is done. I have to build a paint booth before I can finish finishing it.
---
Return to index.
---