... and Rotor
Several of the founding fathers of the Wing and Rotor
flew helicopters. There is a legend that some of them
may have been banned from another club because of
their interest in this aspect of the hobby.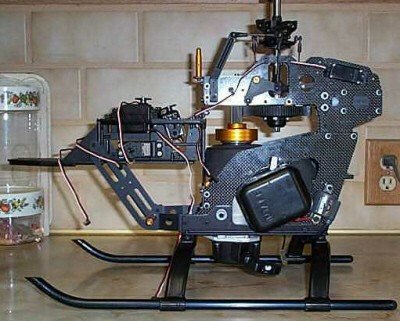 Gary Corsaro's new heli.
Carbon Fiber side frames and Zenoah G23 engine
"This is it done with the stickers it came with and 2 coats of clear. I'm
working on a custom paint job on another canopy."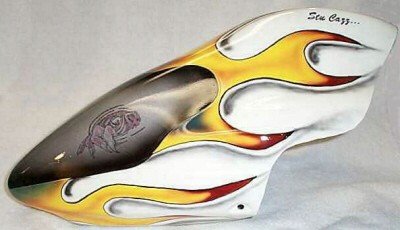 "Here is the canopy I've been working on.
It came out better that I expected and now I'm afraid
to fly with it on the helicopter."
More notes from Gary in response to questions from Wing and Rotor:
"The helicopter is an X-CELL made by Miniature Aircraft which is an American company located in Florida. It is about the same size as a 60 size chopper. My X-Cell Custom uses 660mm blades and this one uses 690mm blades, which gives it about a 56in rotor span.

"It weights in at 12 lbs., which is about 2 lbs. heavier than my X-Cell Custom.

"The kit was $1050.00 and came with the engine and muffler. Not bad for a Graphite machine, engine and muffler. Tell Bags if he wants a poem he will have to write it himself. I haven't let that side of me out yet."


---
Return to index.
---