In the morning, Pat, Dale, Pauline, and I went to Mass and had some donuts and coffee. They then took me to see Calgary's skyline. The falling snow saved me from another hike up Nose Hill.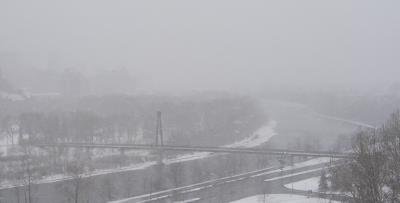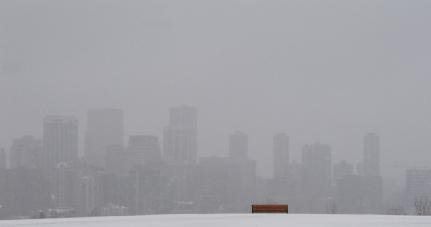 After a hearty breakfast back at the house, Dale and I went to meet with Bob White. He has trained in aeronautics and builds models for himself and for customers. This is a fuselage for a camera plane that he and a customer are designing. Bob's workmanship is exquisite. The parts are hand-cut, but they look like they came out of a CNC router.
The wing in the background is 80" tall. It is for a customer's Chipmunk. The woodworking is flawless.
Bob's favorite plane. It's been sold, repurchased, and rebuilt several times.
In the background is a super-scale Pitts that Bob has been working on for seven or eight years. It will be a competition plane when he's finished. The fuselage in the foreground is for a 50% scale Ultimate 20-300. When Bob gets an exact three-view for it, he will rework the fuselage and the turtle-deck, then build the wings. As it stands right now, the fuse is a mixture of 30% and 50% details. [Update on the project.]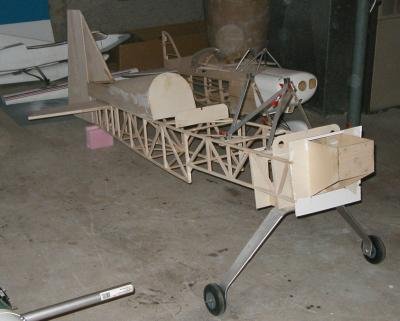 After we toured his home workshop, Bob took us to meet his boss, Shane Daly of Innovative Wings, Inc. They build kit planes for customers. This is a Turbine Legend that should be finished in the next month or so. They hope that with their modifications it will cruise at 340 knots with a ceiling of 25,000 feet. The fuselage and wings are all-composite. Their customer purchased the hangar for them to work in. Bob works on the big plane ten hours a day, then goes home and builds models to relax.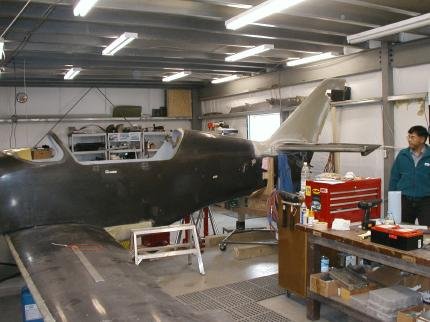 On the way home, Dale and I swung past the Olympic Park where he volunteers and earns free ski tickets. He was hoping to ski one more time on May 15. Looks like the snow conditions may still be OK then. These are the jumps where Eddie the Eagle earned his wings in the Calgary Olympics.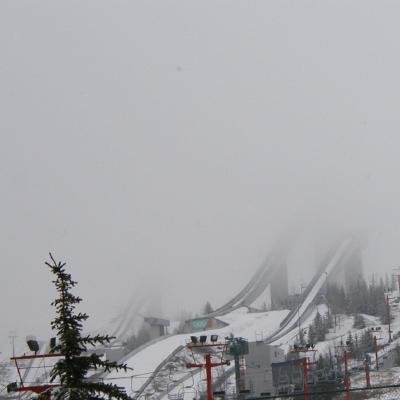 After dinner, it was back to poker again. I taught them five- and seven-card stud, hi-lo, and hi-low roll 'em back. If we had had more time, I would have tried baseball and night baseball, but Dale needed to get to bed early to be ready for work on Monday morning.