My first stop in Detroit was to pick up a Dr. Jekyll pattern plane from the brother of a friend of mine. Right near his home, I stumbled across the Yankee Air Force Aviation Museum. After scrunching the plane and spare parts into the back of the car, I spent a couple of hours wandering through the museum. It is located on the Willow Run property where Ford built B-24 bombers in WWII. The buildings are pretty shabby, but the airplanes are in great shape.
This little homebuilt biplane was donated by the builder. It is dwarfed by all of the warplanes.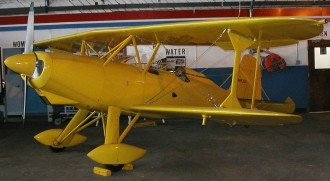 After the museum, I went in search of Seymour and June's house. I had a grand tour of their neighborhood. I didn't have a highly detailed map of the area, and I wasn't coming in from the north, which Dez's directions assumed. I should have stopped at this intersection to take a nice picture of the flowering plum, but I was suffering from get-there-itis, I guess.